Still in preparation for spring 2017: 100 Years of Communism are enough, Why we need the energy crisis; Odin's Runes; the good perspectives of a new Britain. Bad aliens off limits, and the Brexit will bring more equality, prosperity and happiness.

Now this is a serious issue! But nothing is so serious to not apply a little comedy on it! This is also part of the Deutsche culture. And even Islam won't stop us from having fun, or not?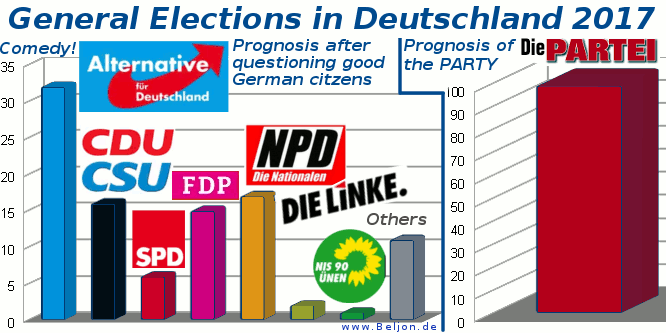 Well here we see first a comedy prognosis of the Deutsche general elections of 2017. The strange thing is that the parties here shown as winning are rather right-winged. The populist and liberal AfD is the big winner, alongside the liberal FDP it is supposed to form the new government. The extremist right-winged party NPD has won the role of the leading opposition party. While the NPD plans to introduce a democratic national socialism, AfD and FPD make plans how to best conquer the world markets. The losers are the Christian Democrats as well as the parties of the left wing. How may this result possibly happen? That may be the surprising result of a total religious reversal. This is what the UTR brings up. While all the people realize that there is a good Earth Goddess underneath them, that brings heavy losses for those old-time Christian parties. Old-time socialists also are ideologically rather bankrupt now. It won't help radical left-wingers if they try to make friends with cosmic devils. And while God solves all the energy problems, it's over for the Greens, that radical protest party. The Greens also are as disliked now as Islam is in Deutschland, since the UTR has it that the Deutsche are God's chosen people. And that explains the big rise of voters of the right-winged and populist parties. Only a few outsiders, the fools and those who hunger for power, may still be convinced that they can turn some 12 percents only of the votes into an absolute majority. So this is definitely sorcery, but also this happens, due to the UTR. They can learn this sorcery from the Russian state party »Единая Россия« (United Russia) at every election.
No Violence versus the Party AfD! Stay hard versus Chaotists!
So the topic is to be taken seriously: Are the Bundestag elections in Deutschland 2017 still free? The things we read about the right-winged populist party don't sound like that. We read: (JF 21/17 S.1:)
»Meanwhile the AfD receives on a broad basis due to … measures of blackmail versus publicians practially no more rooms for meetings. Leftist Chaotists destroy campaign posters in a military planned way. They attack a growing number of campaigners. They set ablaze the cars of party officials. They attack houses.«
This is what journalist Dieter Stein wrote in the intellectual weekly »Junge Freiheit«. The JF is regarded as right-winged and Catholic, but it nevertheless often provides important background information to topics that other newspapers discern; since the truth is not regardes as politically correct. For instance, the question is often whether the perpetrator of some anti-Deutsche deed was a Muslim. In the extent that leftists raise emotions against the Deutsche, the hostility grows especially of such perpetrators. The JF supports the AfD, and raises hope that we Deutsche (Germans is a little outdated) may better defend ourselves, both against hostile aliens and against left-winged truth-twisters, in the future by a democratic way.
Those who want a Democratic Socialism must segregate left-winged Chaotists
So the terror of Islam is not only due to the support of extremist Chaotists. There are also radical and moderate left-wingers who support it by way of painting the Deutsche as Nazis in the old sense of the term. It is typical especially for left-winged Chaotists that they fast call any disliked people Nazis, even right-winged Social Democrats. At the same time these are for some sort of socialism, just like the Nazis wanted to introduce it. Just like the Nazis they but want to introduce first a tyrannic rule of violence and arbitrariness. And just like the Nazis they are unfettered bandits, who respect neither laws nor borders. Just those left-wingers who step forward for the introduction of a democratic socialism, that would need to be a national socialism too, would need to separate from such Chaotists harshy!
Those Leftists are lecherous for Violence! That is due to the bad Spirit that sticks inside of them
There is a small international scene of traveling violent perpetrators, a part of them is intensively criminally active. Political terror of a small scale is typical for leftist-extremist gangs. They for instance populate many so-called »Autonomous Centers« or control them. Right now these concentrate their campaign on the right-winged citizen party AfD (Alternative für Deutschland). But years ago they attacked our European states with murderous terror, that basically was, not only in Ireland, backed by the Church of Rome. Still today Cologne (Köln) remains true to Rome. Here they posted many stickers with the three letters FCK, and they found support among other left-winged or even leftist-Catholic groups. Many concerned ones battle against alleged Nazis. But the Chaotists are fundamentally against the AfD, and practically mostly against the cops, who are law-abiding and confront them. To the concerned citizens they tell the ever-the-same message: »fuck«. That makes clear: Those left-wingers are lecherous for violence. Surely they can't understand themselves why they are that way. But from any religious or psychological point of view it should be clear: Those Chaotists were made bad and horny from something that is inside of them, something that they fail to understand. It is without doubt a bad spirit or drive. The gruesome shows of such leftists at the protests against the G20 summit in Hamburg leave no doubts here. Only the new religion UTR can correctly explain this evil.
1917 to 2017: Hundred Years of Communism are Enough!
As we Deutsche allow left-winged Chaotists so much as we face them, they destroy here a lot. Here in Cologne most recently terrorists set fire to sub-surface railway cables. Older Volkswagen buses were seen at that location. The police assumes that the perpetrators were traveling Chaotists who were on the way to the G20 protests in Hamburg. For hard-boiled commies terror is justified, against persons too, as citizens fail to obey to their orders. During the G20 protests such Chaotists showed up as radical communists. What we might expect of these, that is what we can learn from history. When the commies exactly 100 years ago came to power in Russia, they plundered and ruined any way they liked it. The economy crashed. There were no trains going. People disliked by the commies didn't get something to eat. Right then millions died of hunger. Many more millions later became victims of the terror of the red bandits, when they conquered many lands. The rule of the commies was of the same sort like that of Hitler's Nazis, it was a political party tyranny. But it took a longer time and also was worse. Nevermore we should say to this!
We need to take tougher Action against Leftist Extremistist with our Legal and our Social Administration
The history of Deutschland must teach us that we citizens and our administration must take a stand against those bandits from the left and the right political side with a tough stance. We need more criminal prosecution now. It is therefore now an urgent task that we once more apply the measures against extremists. In the FRG we have gathered experience in decades how to ward off extremist leftists. It is possible that we can take tougher action with our legal order's measures. Here it is important to also tackle those people in the background who raise and instigate the perpetrators. When leftist Chaotists today gather for a demonstration and get violent, they are organized and also transported, provided and paid at times. Some even receive a bat into the hand. That is what political parties do, like »Die Linke« (The Left, it's the new name of the East German commies party SED) und die »Piraten« (Pirates). But also GREENS advertise in flyers for »forceful beating« actions. Even inside of the SPD (Social Democrats) some perpetrators allegedly must be regarded als leftist extremists. We Deutsche and other Europeans too must all keep together against the bad spirit, and those who are possessed of him, and who are made to commit acts of terror and violence. Leftist Chaotists are not the comrades of the truly left-wingers, who strive to build a better world.
Those who turn towards leftist extremism do not belong into schools and administrations, and especially not into the media. Such people must be removed from the children's village as well as from the youth center. There are enough jobs in the producing industry who are open for such extremists, and by that way they can get truly multi-cultural. Many Chaotists are worn-out antisocial elements, they are used to an intoxicated life, and they celebrate the joint violence as an event of intoxication. The administration must and can impose sanctions here. Chaotists shall not receive social benefits while they commit criminal acts against the state or the community of citizens. Just now the Deutsche Federal Social Court (Bundessozialgericht) found it correct if a recipient of welfare only receives the minimum, when that is to be regarded as appropriate. That means he receives vouchers for food, clothing and drugs stuff. Such a guy then misses the money to travel to some terror demonstration, but he also has no money then for beer.
Concerned and pressed Citizens need to receive more Help from Above in Deutschland!
It is an urgent necessity that we take tougher action against left-winged Chaotists. It is another necessity to break with the tradition of the established »Block Parties« to use leftist Chaotists to drive away oppositionals from the streets. The example of the Russian state party »United Russia« shows that one party or one big coalition of parties often succeeds with silencing upcoming oppositionals. While more and more bad aliens wander into our countries, we must fear in Deutschland and Europe too that those aliens behave so bad here like they behave in their countries. The question of immigration becomes a question of destiny of Deutschland, of one not yet so old nation. The same problems are even worse in some other neigboring countries like Estland. There the question arises whether to find a new cultural bond, with the truly Finnish. A loss of cultural identity is a scary perspective for many peoples or regions, and Deutschland is just a normal people among others. Of course many established left-wingers not only want to minorize the Deutsche with the help of masses of migrants. They are mainly competitors in the economic competition of the political parties. They want to win mandates in the houses and receive big payments. They also want to be involved into the secret deals over who receives what post in state-owned enterprises and gets public contracts. Here the political parties are often traditionally mendacious and unfair.
Cronyism and mismanagement become the cause of protests. Right now the AfD is a protest party. The AfD wants the Deutsche to keep their civil rights. The AfD receives especially many votes in the suburbs where gangs of leftists and migrants struggle to install some kind of rule of violence and arbitrariness, and scare women and children with FCK propaganda. It is understandable that the established parties of the »Anti-fascist Block« try, just like they did in the former GDR, to drive away such oppositionals from the streets. They do this based on ideological lies, but mainly they just push through their latently tyrannic interest of staying in charge. Bottom-up the AfD cannot do much against this. Mostly poor and simple Deutsche, who form the voters of the AfD, have little political education yet. Therefore we would need a top-down initiative for a societal and political change. I think of an upper house, that is composed from morally elevated persons. The spirit of the Deutsche is a spirit of honesty and truth. It shall see to it that more often government is done with »clean hands«. So doesn't this all sound like a miracle? Miracles naturally happen, that is what God's own religion UTR can not only postulate but also prove, with facts from the field of fringe science for instance. Those who are sly don't only respect the borders of their neighbors, but they also defend the borders of our heimskringl (our planetary system) against those evil cosmic Greys.
Still this Year's Top Text! This is not only something for Students and Experts!

The End of the Ice Ages This long top-text with many graphs explains the cycles that shape our climate with the help of guardian angels. A bonus chapter about Global Warming explains why politicians in Deutschland recently decided to stop worrying and love Global Warming. This Text as PDF, 1.4 MB 70 p.
Did you know that the experts who knew about the 100.000-year climate cycles used to prophesy that the next ice age is overdue, and will surely come? This text dares to object, based on God's knowledge. We are already 6.000 years past the time when the global cooling should have begun. So don't let all those old-time experts fool you, who alarm you with worrying statistics but just don't know too little about climate cycles, the overpopulation crisis and other things who influence our climate, including the discrete rays of God, guardian angels and lots of evil aliens. Support your local god.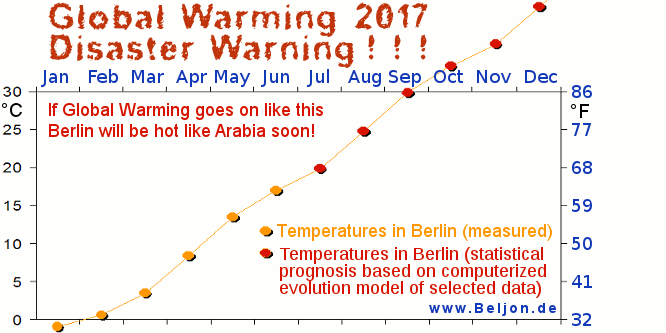 We need to get away from bad old-time Religions. For this we need a new World-Order of Information.
By the way, this website is truly divine. That means that it reveals God's secrets, that you won't find in any publication of a mortal. Some good people may find all this truly unbelievable; but as they check out the facts they find that this is the one source of information that answers the questions they always had. The big question of humankind is, after all: Who is to blame if bad destiny hits people, and if we must suffer and are mislead? The Universal Truth Religion (UTR) has it that humans are victims of the N-ray attacks of hostile alien congeras. Most other religions too know these powers as devils or demons. It's hardly possible to resist to the pressure that they eventually exert. They can manipulate many people who are just naturally too far away from their local God. Right now there are just lots and lots of old-time clerics and media people who are not ready for such a new lore. But as we want to get past the painfully wrong stories and teachings and the bad old traditions of the old-time religions, we need a strong and fair new world order of information.
It is too easy right now to blame just a few People for definitely supernatural bad Influence
Some disbelieving people who don't know about the supernatural powers tend to put all the blame for bad developments on just a few people. The Nazis demonized the Jews. Today many liberals and weak-minded people demonize alleged Nazis, right-wingers and populists. The consequence is that this leading block of the international media, newspapers and networks, likes to campaign and rally the way politicians do. In the stead of trustworthy and unbiased informations, they provide the public with cleverly selected and even deliberately crooked material, that adds up to a strictly negative spitting public image of people they dislike. Lately for instance I was reading the French newspaper »Le Monde«, since I wanted to learn more about French right-wingers of the FN. But all of the news that this paper brought were decidedly pro-Jewish and pro-liberal but anti-FN. So who is to blame if some sly politicians react with a comparable propaganda campaign, including counter-pressure and counter-information? Right now we find that the press of the west is much biased and unfair in general, regarding the new era of western politics that is about to begin. All the left-winged to liberal to anti-western media networks tended to unite to form one worldwide media-block so far. That is okay, but we need a second competing block, and that seems to form right now.
The leading Worldwide Network of Media Cronies needs a worldwide strong Competitor
Media of course have supporters in political positions, who cry alarm if some kind of worldwide opposition is about to form. Well, what is wrong if we get from the situation of unfairness that we are in right now, to a situation in which several world-wide networks of opinion-leaders and financiers of the press compete with each others? Here still it counts in the end who's right and who is wrong with the things that are reported and the way they get commented. Right now the press people are wont to react with fierce pressure and mobbing, if they encounter opinions they traditionally are not willing to tolerate. They call someone a Nazi or a racist fast, and then they think that this is all that they need to say. Under a new world order with more freedom of opinion, they would have to explain all their old-time prejudices and justify their negative propaganda much more. Isn't it just scientifically correct, if we point out that Whites and Negroes are very different in general? Isn't it racism too when people say that Amerindians (Redskins) are the only indigene (innate, original) Americans?
A new World-Order of Information will have worldwide competing Networks of course
Today the old-time cronies, party-people and government people in the media duck and avoid to question those old-time convictions, and to tackle those taboo topics. We need to get away from this, to make a better new world order start. Today all those left-winged to liberal to Jewish media companies and networks are ruling the world of information their traditional, much less than fair way. But a better information order of the future needs at least two competing networks, who are rooted in different political camps, who exist in most any western and non-western society. Then there will be more freedom of information, and that freedom is what not only democracies badly need after all.