5. So what about Witchcraft?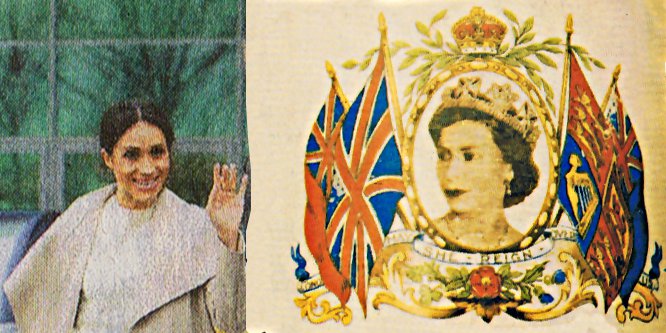 1. The four most influential British books of all Time
I just was reading, in the newspapers, a short list of the most influential British books of all time. Some guy mentioned four: Jane Eyre, Harry Potter, The Origin of Species and A Short History of Time. Of these I only red Jane Eyre. I judged it to be a typical story of some dark girl, one of the so-called Celtic type, that is rather a Southern type. I've been reading Julius Caesar, and I wondered why he failed to mention the fact that the Celts from Gaul were usually bigger and better looking than his Romans. French Celts were of a fairer type, like Prince Harry is; but the British Celts were definitely darker and punier. These Celtic Brits were renowned for their mastery in religion, which means, the bloody religion of that Irish sect called Druids. When the Romans conquered their holy island of Mona, some British witches tried to fight them with curses. Such magic but only works in the fantasy world of Harry Potter. So is there no magic at all? That is what old-time experts tend to believe. They rely on books like A Short History of Time by the terribly ill Stephen Hawking. But this stuff is so much a sick calculation fantasy, it's a Harry Potter of the world of science! And also Charles Darwin's book fails to explain so many strange phenomena, most notably the distribution and natural features of the human races. If people realize how little they really understand about this world, they are maybe ready to study philosophy. The good philosophers would at least realize this: Scio ut nescio. – I know that I don't understand. But that is not the case when it comes to our leaders on many fields, from science to politics. Some key books are thoroughly misleading people.
In the absence of any good explanations for so many phenomena, many people also still hold on to the Bible. Don't these Anglicans wonder why their Bible is called King James Bible? That sounds like as if that Catholic king had written it, and we could put it on the list of most misleading British books of all time. Philosophers at least may realize that this world is full of wonders and unexplained phenomena. One of the biggest wonders is why many people don't even realize how little they understand, but rely on some utterly, laughably wrong older books. Of course this intellectual blindness of humankind is one big wonder too. We can't see the people who work this stultifying spell. But one obvious fact is that humans get dumber with the help of dark and badly developed races. I still remember the church sessions where I was singing songs like My lord Kumbayah! That Kumbayah was possibly the name of some juggernaut of the African Christians. But this Negro babble was put into some official Deutsche Christian song-books, since the clerics realized that it helps their sheep to believe. Negroes are definitely this planet's dumbest and most primitive hominids. One effect is that these believe more easily than whites into odd religious nonsense. Some Christians even tell to the sad darklings that they will live again after they die in the clouds and have a white skin and angel's wings up there. It takes you better human quality to develop past such lies. Of course the silly, dark and badly developed people tend to believe stronger into such unreal cloud-travel fantasies. True children of darkness are ready to listen to lies, that they are chosen and superior or at least equal to God's nobler, higher, prettier, better and brighter humans. The Punic to Semitic types gather around clerics who tell them that they are the best and also God's most charming creatures. These celebrate their dark types, at grungy model and murky miss shows. Not only Meghan Markle managed to surf that dark wave to the top of the British monarchy. So is her family of old Visigoth royal blood? Or is her mother a doctor, and does she hold several college degrees? Is she at least good in bed? The press does not ask this. Before her the media guys scurried around that puny girl Pippa. So who is she, the Duchess of Takatuka Land? Some such dark types definitely have a dark magic that can make them unavoidable. Destiny pushes them to become top celebrities. Such southern types make the world lose their sense of real beauty. So who makes such dark stuff become so popular? The brighter people can easily add this to the long list of all the things that they don't understand. While humans officially understand nothing much, one thing is sure: Such dark types help a lot to mislead and stultify the world. The UTR has it that indeed this planet is not ready to understand it's local god. If the people of this planet would learn more, the risk is high that they could self-destruct in short time.
2. The Scare was always there for Anna Katharina
How did dark Meghan catch this planet's Prince Charming? The press didn't question Ms. Markle about accusations of sorcery. But here's another recent media tale about magic. One Anna Katharina tells us how it was to grow up as a bright but uninformed woman. She would know that something was there, but what was it? (FAZ 14.04.18 p. 20):
I had a constant companion. It was the scare. I can't remember a time when she hadn't been there. She would greedily nosedive on me and then bite fast into me. She would sit on my shoulders. I found this written, in the tale of Sindbad the Arab seafarer, who met a hunchback ghost: It was a demon who clutched at him day and night, who laid his bony legs around his throat. He commanded around, and if Sindbad would not obey the ghost would beat him. Fear would make Sindbad become all obedient. I but resisted, and this made me become a grim and aggressive person, full of mistrust and always read to hit back. I was gravely underweight then and biting my nails. Lately I don't fight this scare no more. I learned to live with her. She now sits in her sullen corner while I ignore her...
So this is the typical story of a young girl in mental troubles. Psychologists will say now that the problem is all inside of Anna's head. They rely on books like those written by the Jew Sigmund Freud. Freud developed his atheist lore of psychoanalysis when he met patient Dora. The UTR has it that the leading demon of the local group tends to clutch at people with Dor-names. Anna was the name of the mother congera of this group, and Katharina or Catherine is another important name, linked to some false saint Katherine from planet Lar. That planet is fractally especially linked to Britain, and it's a burden that comes to the British royals too. The consequence is that troubles may clutch at this or that girl mainly because of her special name. Indeed since the old times, the ray fronts that those congeras use focus on persons in a way that resembles the attacks of birds of prey. That is why not a few cultures have birds of prey as emblems. See chapter 4 for the pictures of a goddess with such bird's claws. These were modeled after living girls.
3. Women often can't escape from realizing that Magic exists
Most old-time scientists will say that witchcraft is a fantasy only and, just like signs and wonders, cannot really exist. But many people know that this can't be correct, since they have seen strange phenomena and know about mental links to some strange minds. Since women are constructed in a way that makes them more emotional, most women can't escape from realizing that miracles do exist. The more simple ones hesitantly obey to the lores of the Bible, and manage to get over their typical waves of doubts. That's easier with a Christian stultifying education. Women with a better education though may find it worrying that no good explanation existed, so far, for miracles and other such phenomena. The traditions of the churches still seem to regard that as a verboten topic. It was taken for a sin to try and work miracles. Nevertheless most women and men naturally are doing miracles. Whether they know it or not, this magic is really inescapable. Already by your wishes and your imagination you alter reality! But it makes a difference if you just wish that your prince might fall into your arms, or if you work hard your body at night sexually, to try and fetter him into a relationship. Some of the worse people have a primitive tendency to stalk behind other people they would like to get accustomed with: This is often the tactics of the meaner and darker men, who rather should remain single, according to God's miracle working. Just the men who try hard to »make girl« are those who are most likely to turn out to be loveless and full of vile plans and emotions. Those are often rather unable to develop real love, a nice responsible behavior and courtly manners. Women eventually may resort much faster than men to love spells and spiritual traditions. They may pray for love and wishes fulfilled, even to dubious or unclean spirits. They eventually try traditional witchcraft. This can mean, to just scribble up an old spell on a scrap of paper, and burn this or hide this at a sacred location. It can also mean to put magical herbs and all other ingredients into a pot, and use this as a love potion. Such love potions play a surprising big role in some of our best works of fine arts, but really, we must keep in mind that many plants have poisonous substances inside. Jews have the tradition to consume bitter herbs at the »festival of the leaf huts«. This is some kind of redesigned spring festival, and surely the Jews were always complaining about the fact that their god didn't make them become more numerous and powerful. Jews also put scraps of paper filled with wishes into the rest of some wall of their former temple, today called the wailing wall. So really, Judaism contains some practices that we may regard as sorcery. But since neither Jews nor witches know the true God, all their sorcery leads to not a lot. People who try out traditional sorcery may only eventually find that their most foolish and weird behavior seems to work on that field. That is due to the Greys, who like to fool and make people insane. That is why it seems to help some brutish Redskins at a »rain dance« if they take snakes into their mouths at the risk of being bitten. Some rainforest Indios also let nasty ants bite them, since the pain seems to do them good. Lately however God tries to end such painful and foolish practices. So this is the magic of the Amerindians. Meghan seems to have some such genes too. And isn't it the tradition of the British royals to participate in strange ceremonies of the natives?
4. Help! A Witch shot me in the Back!
»Ah«, said Gawain, »had I done worse I should but have been like our forefather Adam, and Samson, Solomon, and many another man that let himself be beguiled by women!«
When Christians think of witchcraft they often link bad destiny to women. In dark past ages some would search with zeal for alleged witches and cruelly kill them. That often included women who tried to help the sick, for instance with traditional and herbal medicine. Today many people find that this persecution of witches was a mental insanity. Old-time experts sadly fail to realize that evil powers strongly influence this world. They may especially target women who can heal. The typical case of bad destiny is however one that is not linked to any living person. That is why in Deutschland the lumbago is called »witches shot« (Deutsch: Hexenschuss). It's a common disease caused by the sudden movement of jelly parts of the spine. One manual says that this may happen as you try to lift a crate of beer. A lumbago may hurt your nerves and partly disable you. Medics think that heat treatment is first choice now. If you tell them of witchcraft they may send you to the psychologists or the clerics. The medics know not a lot about healing, and the psychologists knows hardly anything about magic. And better forget the clerics. The problem is that sensible people may realize that this lumbago was linked to some bad magic coming in! They may even sense some kind of explanation inside, and be forced to say something mean like: »Ha ha«. They may get the idea that some witch did this. It's a phenomenon that terribly frightens many people.
What can help now? From the point of view of the UTR you need to get better luck. If you take a shower now and a walk, until you get into a better mood, that may already help against some of the symptoms. If one of your intervertebral discs is dislocated, you maybe didn't do your fitness exercises and did spend too many hours in unhealthy positions, like on the couch fettered by your telly. If your bones and sinews and muscles just have gone weaker, there is little you can do when it's already too late. You would need a miracle to move that disk back into it's former position. Sometimes magic might help. It is known that some healers seem to have the power to rebuild your back. One such lore is called osteopathy, it's a massage therapy. While those warm hands on your back surely feel comfortable, cool fresh open water has a much better effect on the health of your flesh, and especially helps to calm your nerves. So one better therapy may be to take a bath in some pond. Christians may well remember John the Baptist and his baptism therapy. Indeed a bath in the river Jordan may also help against the anxiety before witches. Some men tend to hate some woman that always comes into their minds. The Greys have a tendency to foster conflicts, especially those with a sexual tendency. Some tend to hide behind women and use them as bots. Your intuition may tell you that witches plot against you or do other bad things. But that is just a propaganda lie of cosmic devils. Greys harm our people from above and put the blame on them or on others. Those aliens don't hurt us since we are sinners, but they want to exploit and ruin Earth. But the idea is not wrong that bad and unhealthy behavior makes bad destiny become more likely. God has a limited control over these hostile N-rays from far away, and the good have better luck.
5. Modern Medicine under God's Scrutiny
In the tabloid Express I found another report about strange and sudden health problems. We read:
Help! I am hyperventilating! Sieglinde reports that this happened to her once, when she was a teenager. »Out of the bright sky I had the feeling that I could no longer get air. My collar was like tied close. I started to pant, I breathed ever faster, got pale like cheese, cold sweat broke out. My aunt, who was there by chance, desperately cried for help...«
Doctor Falk S. recently published a book about emergency medicine. He is convinced that nearly always such a case is triggered by a situation of extreme mental stress. Falk then tries to identify the trigger in therapeutic sessions. Search and you will find, this is what already the Bible said. In that tabloid's short article we also find the surprise news that hyperventilating patients should not breathe into a bag. That is the classical recommended method, but Falk wants to psychologically talk the patient down. To me it seems that the simple facts of physiology play a major role here. If the patient hyperventilates for a longer time he breathes out too much of his carbon dioxide. So the emergency helper must first try to get more CO2 into this person, and that is done with a bag.
From the point of view of medicine we must find that hyperventilation is not really the problem that the medics are dealing with! The first problem was that some process like tried to strangulate Sieglinde! That is what some therapists have in mind when they recommend: »Talk them down!« They don't want to see patients breathe from a bag that has not enough oxygen, since that only is a therapy against the symptoms. Instead they want to tackle the cause, and that seems to be stress. But if we really listen to people like Sieglinde, we find that there is some process that causes this sudden fit. How might we diagnose this fit correctly? One of my odd medic's manuals says this:
Acute closure of the breathing way is the most frequent cause of death of kids of the age of under 8. They get into a confused state of mind, their tongues fall back and they die.
When these death cases are so frequent, it's strange then that they remain hardly commented by classical medicine. It seems that some spell kills children, often surely the weak and feeble ones. We must also suspect that this more often happens to colored dumbbells, but if that were true we can't expect to read much about this. Maybe the emergency helpers nearly always come too late.
Of course our medics know today a large number of more or less frequent diseases who may lead to insufficient breathing. It starts with being fat and ends with severe nerve degeneration diseases. Some medics may take their time to test the patients for all the diseases mentioned in their books. But there is no such physical origin of hyperventilation, or is there? While my manual has it that hyperventilation is a disturbance of anxiety, a panic attack, my goddess gave me the notion that this is a reflex that we also know from dogs. They hardly sweat but can only pant to reduce heat. So another emergency measure should be to cool the head of the patient. Isn't that very obvious?
Now here is what the CMDT uses to recommend, a common manual of diagnosis and treatment. Like most others they recommend to let patients breathe from a paper bag, to fight the respiratory alkalosis, the lack of CO2. We find however these valuable extra info and treatment proposals:
»Hyperventilation... may be be caused by a variety of conditions, such as pregnancy... lung diseases, sepsis, hepatic dysfunction, fever and pain. The term "central neurogenic hyperventilation" denotes a monotonous sustained pattern of rapid and deep breathing... seen in comatose patients with brainstem injury... Acute hyperventilation presents with... anxiety. Anxiolytic drugs may be useful...« – »The processes are usually self-limited since muscle weaknesses caused by hyperventilation will suppress ventilation. Sedation may be necessary if the process persists.«
If you are not familiar with this alien language you may need some time to translate the words. But even for specialists who know such cases well, the basic questions remain open in the end. What is really at the origin of such a potentially life-threatening malfunction of your nerves? It is correct that those people with an acute hyperventilation syndrome also suffer from strong anxiety. They are anxious because a strange process and behavior overlays their normal and natural breath pattern. But some may also be anxious because they feel extremely pressed now and strangulated by some kind of invisible force. Is there an invisible man, a ghost who does this? No, and neither does witchcraft cause this dysfunction of the body. But this is what hostile aliens do with N-rays. The problem is that if you tell this to some patients they will not be able to accept this and they will only get into a more serious state of distress. What the emergency helper or medic needs to do now is, to help the patient to regain better control over his body and his nervous processes. From that point of view it's wrong to drug and sedate the patient, since that makes people get dizzy in the wrong moment. Instead they should get busy and moving to actively release tension. The weaker and softer people get, the more they are addicted and anxious, the less they will be in control of themselves. The objective is to make them able to control again their rhythm of breath.
We can learn more from those special cases of those comatose patients with a CNH syndrome. In the state of coma the patients have especially little control over themselves. The less control they have, the easier it is for gravito-magnetic rays from above to manipulate them. The Greys may do this or that bad deed, often they find it amusing to gradually damage and waste such a patient. In the cases when a CNH syndrome manifests, a strong rhythm from the outside overlays the breath rhythm of the brain. This rhythm from the outside of the mind can intoxicate, seduce and enslave people. Limbs may move automatically as people get into a trance. The followers of Jesus, those Jewish zealots, were for instance such a sect of ravers. Still today some radical Jews pray by way of shaking their heads. These are comparable to Quakers, ravers and headbangers of the metal music scene. Such practices help the congeras to better focus on a target person. Behind this alien rhythm there is the fact that the N-rays are caused by pulsars, fast rotating dark stars. The good E-rays of the Earth Goddess too are rotating fast. The consequence is that it can be dangerous if you let a rhythm take control of you, especially when there is a strong magnetic field from the outside that suddenly puffs into your mind or your room. Those cosmic N-rays are well measurable and were already measured. Detectors show characteristic pulses of the micro-magnetic field. That is why traditional and classy high-brow European musical traditions don't know strong rhythms. In a classical concert or an opera there is no underlying strong rhythm that lasts for more than some short time. But such a culture of »magnetic and hypnotic« rhythms is typical for the oriental Sufi music, that makes people fall in trance. The alien rhythm may even come to you if you march as a soldier in a parade. That may help dictators to better control their armies. Greys often rearrange the hierarchies until the meaner, smaller and darker guys get into top positions. They may do this in the way that they make the better men lazy, and then pester them with bad ideas, pains and fits.
One story about sorcery from the metal music scene is that about some Deutsche with a tendency of satanism. That band had a satanic name and won some especially bad reputation. That worked for some time, but then they changed their name, now calling themselves Celtic Frost. They also became famous for their special style, to not play monotonously but to change the rhythms often. We may assume that those guys at a young age were lured into the metal and goths scene, where tendencies of satanism exist. But as they then noticed that dark magic is bad magic, they won the power to get away from this. Nordic people may win that strength much easier than darker types. That is why the Greys always try to make some southerners, dark types like Elvis, most popular.
But isn't it worrying that we must find that modern western medicine tends to give some wrong advice? Some such medics remind of the guys we see in Harry Potter films, where magical drugs and dialogs in alien languages seem to do all the magic. More accurate is what we see in those Desert Planet films, where the sand people anxiously avoid rhythms, since those voracious super worms notice these. In fact most of the living planets of this galaxy are rather dry and desolate. If our medics get near to realizing that in their cases magic and phenomena play a role, they may consult patients to search help from the clergymen. These however tend to willfully submit and surrender to most any magic, when it comes in a dictatorial and forceful manner from above. That is the wrong strategy for the sensible people, who eventually become minions of devils who try to abuse and waste them. Especially addicted people may just have too little self-control! Most medics sense that drugs make people weak. The modern tendency is often to only give one or two milligrams of a substance, which is really nothing. Pharmacology lately gets near to homeopathy! Western modern medicine believes too much in milligrams of drugs but not at all in magic. Can eventually some more traditional and natural therapy be of more help, if you feel like strangled? This is what I found in a manual of alternative medicine, it's »non-toxic« homeopathic medicine:
Bulbus-symptoms with a tightening in the collar, and speech disturbances: Coccus cacti
That note links strange smells to other typical effects of the N-rays. The prescription recommends red cactus louse extract, also known as cochenille. It's just a traditional red paint. So does it help to just eat »red stuff«? That notion may come into the minds of »reds«. Indeed quack medicine may teach that red substances can cure a throat that looks red! Traditional herbal quack medicine also tried to cure kidney troubles with kidney-shaped leaves! This »signature lore« was developed in the Christian Middle Ages. My inspiration but explains to me that some such stuff may indeed make swollen tissue adstringe. When the inner tissue gets tighter, the breathing ways indeed get freer again. I but find that speech disturbances are sure symptoms of a sudden heavy fit of N-rays.
As those N-rays scan and manipulate your body, they may try this or that, eventually they make you sneeze. Sadly it's typical for the aliens who operate these pulsar rays with faraway machines that they try to activate our reflexes, including some that humans hardly have. There are several thousands of hostage planets of the Cräybs or Maschu. Lots of witches live there who try much to make us obey. Just by playing Simon Says, kids already may learn to obey to some nasty spirit. I know that in cases of strong sudden attacks of N-rays you will need several hours of fighting free your mind and body. Don't let voices speak with your mouth, don't let aliens move your limbs, don't argue with those rays but divert your attention. Don't sit still now like the Buddha, lest those rays will cleverly focus on you and your room. Walk out into the open, come home again to take a shower, then go out again, or sing and make music, work and dance until the N-rays give up. If you are too weak to resist, then those voices may be able to move your hand against your head. You slap or hurt yourself and are not in control. I know from own experience that N-rays can move you into a corner of your room and stop you there. It's like in the Blair Witch film. So could a simple witch work such things? Of course some super-technology is needed for this. In the past all those phenomena were so scary and dangerous that most medics just closed their eyes to them.
After having studied Dr. Falk's book, Sieglinde was convinced that her fit of hyperventilation was triggered by stress in school and partnership. But in ages past people would rather think that such a deathly bad time was sent to them by their gods and demons. When people couldn't breathe and felt like being choked, they would think of a special angel, the »strangulating angel« (Deutsch: Würgeengel). Clerics would suspect that the target person did something wrong and was punished by this way, or that this was some kind of experiment to test his obedience (see the book of Job for an example). From a morally correct point of view however, there can be little doubt that the mysterious aliens who do such things to us should be regarded as hostile. The UTR has it that N-rays may by chance focus on this or that target person. They tend to be stronger in the nighttime or when there is a strong fair weather electricity field in the air. Sudden panic may make it easier for those Greys to get in touch with the victim. But the good Earth Goddess is involved too. She has no choice but to direct these constant attacks of N-rays here and there. She suffers so much from these attacks and still tries to help especially some better humans. People with better genes are often the target persons that the Greys demand. For them it's sometimes a game to test how good humans are, but they test the best to hurt them. I sometimes see visions of some groups who try to overlay our humans and influence them. They wear strange hats and like the color purple. Obviously these try to overlay the cardinals of Rome. They find such churches on many planets.
Another classical movie about magic and witchcraft is »Christine« after a book by Stephen King. Isn't it ridiculous that a car seems to be a witch? Yes it's not. Medics will remember the film for the Heimlich maneuver that is shown there. If you lose your breath due to something that you did breathe in, then a sudden pressure on the upper belly may cause your diaphragm (the inner skin in between your lungs and your belly) to cramp and spit it out. So this is another strange reflex, but one that may make people get unconscious. That is why some medics wrote to better not try this trick. But it's a fact that the Heimlich maneuver saved lives. In the Christine story a young guy by chance sees this wrecked car and decides to get it going again and revamp it. The car then seems to draw him near, and Christine also seems to attack his girlfriend to make her leave him. It is just a horrible fantasy that a car is jealous on the driver's partner. But really, in near space many Greys live who are undead with ruined machines. Greys may send colorful and erotic dreams to find and bind partners here on Earth. In ages past many sensitive women eventually saw colorful visions when they went to sleep. Some would feel like they were flying, when they got dizzy and amused while masturbating with broomsticks. Knowing the devils who work such magic we must warn before such practices. But when this film's protagonist met Christine, it happened because he was a darker type who should not reproduce. That is why his girlfriend nearly suffocated! When such accidents happen it helps to understand and respect the social and magical interests of God too.
6. The strange Case of Julija Skripal
Right now the case of the Skripals became the scandal that the press most often refers to. Leading European deciders, like NATO chairman Jens Stoltenberg, used this case to let tensions rise in between Russia and the other European nations. Doubtless some Russian secret agents poisoned Julija Skripal's father. Sergej is a Russian turncoat and was living in Britain under cover, in the town of Salisbury. It scared the public that the Russians obviously were using some exotic nerve gas. Russia however officially denies all accusations, and the latest news are that they claim that Julija Skripal was held captive against her will by the Brits. So that is one bad hoax! But magic does not play a role in here, or does it? It does. Next to Salisbury lies the holy site of Stonehenge, let's call this the Vatican of Britain before the times of the Romans. Shortly before this attempt of political murder, I had published a text about holy Stonehenge in the Internet. I pointed out that Stonehenge is a symbol of a Troy burg, a symbol of the rotating House of God, or of Frodi's Mill.
Woe, dirty deeds happen in the world of espionage, and not only the Russians commit them. Can't we for once avoid this touchy point? It's much more important to look at the promises of the last era of president Putin. He now vowed to reduce the number of paupers in Russia from 20 percent to 10! But while the British care much for Julija, who also has one of those names, they seem to care too little for many poor white Russians. It's because Europe lost it's own spiritual traditions.